E.Bonilla.LowIntensityOperations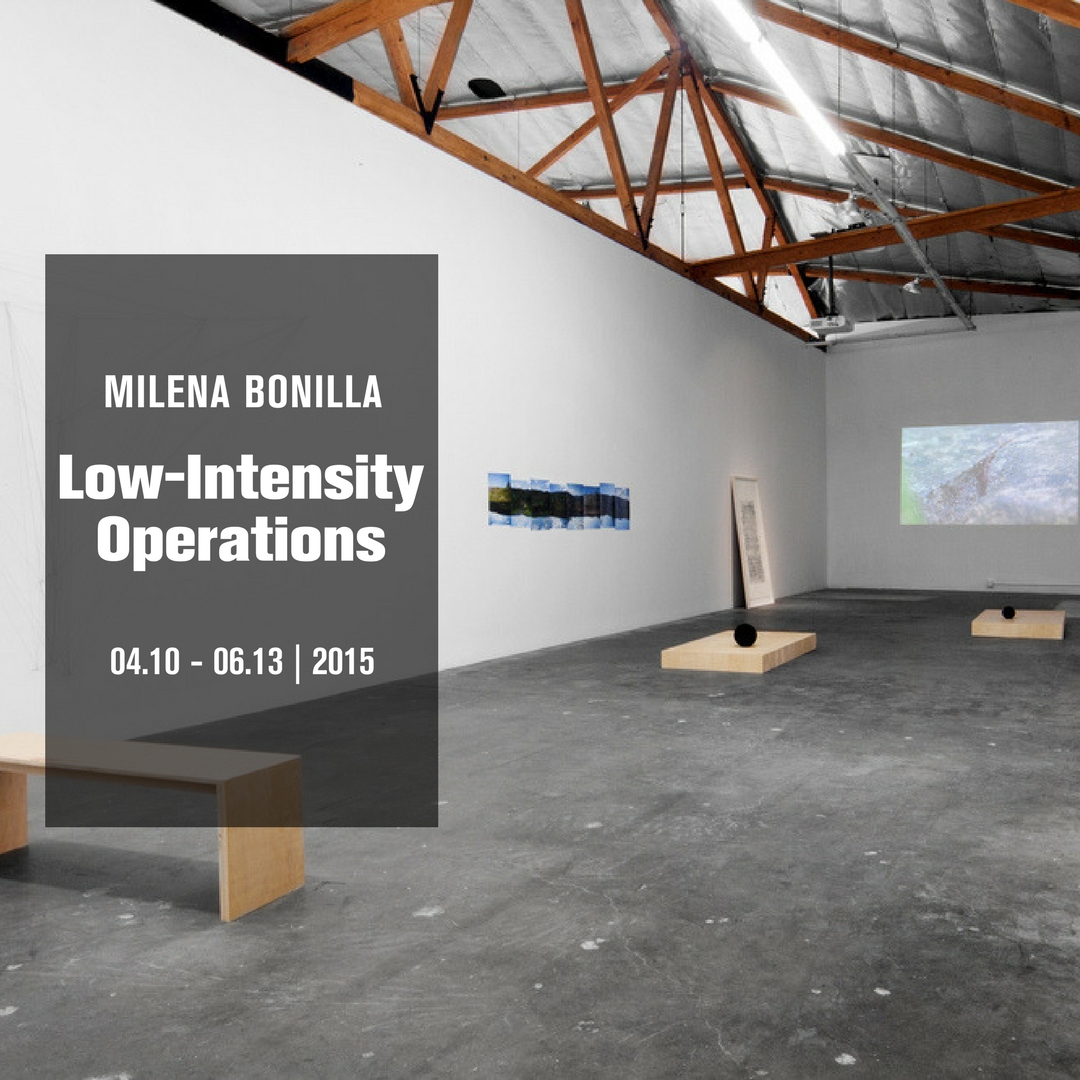 Low-Intensity Operations is Colombia-born, Amsterdam-based Milena Bonilla's first solo show in the United States. The exhibition brings together, for the first time, various bodies of work produced by Bonilla over the past decade that trace interactions between nature, politics and cultural production. Since the early 2000's, Bonilla's work has explored the dichotomy of the Aristotelian categories of Physis (nature) and Logos (reason). An impossible desire to exert control over this relationship results in political armatures that above all seek to limit interactions between systems of living entities. Through a rich repertoire of Marxist references, Kafkian absurdity, and scientific witchcraft, Bonilla opens spaces of revolt to stand against this structural separation between the master and the beast. By using a heterogeneous lexicon that joins science, literature, economy, and architecture, her work generates uncanny maps and improbable free zones where every surge becomes a sort of insurgency. In this tension between macro-political brutality and pervasive gestures of natural and linguistic resistance, Bonilla confronts our biased considerations distinguishing life, thought, and action. Bonilla has articulated an expansive narrative through her projects that this exhibition makes legible for the first time. Low-Intensity Operations stages her installations, including two newly commissioned works, as if they were chapters of a single book about life-form, power, territory-making, and language-presenting them as a connected exploration.
Milena Bonilla: Low-Intensity Operations is organized by The Mistake Room and curated by Victor Albarracin, TMR's 2014-2015 Curatorial Fellow.
ABOUT THE ARTIST
Milena Bonilla is a Colombian artist based in Amsterdam, where she attended the Rijksakademie van Beeldende Kunstenin 2009-2010. Her work has been shown at international venues such as Bonneffanten Museum, Maastricht (2014); Cisneros Fontanals Art Foundation, Miami, USA (2013); Proyecto Paralelo, Mexico City, Mexico (2013); mor.charpentier, London, UK (2012); Centro Andaluz de Arte Contemporáneo, Sevilla, Spain (2012); 12th Istanbul Biennial, Istanbul, Turkey (2011); SKMU Sørlandets Kunstmuseum, Kristiansand, Norway (2011); Rijksakademie Open, Amsterdam, the Netherlands (2009-2010); Witte de With, Rotterdam, the Netherlands (2010); 10th Havana Biennial, Havana, Cuba (2009), and 3th Bucharest Biennial, Bucharest, Romania (2008), among others.
Support for this exhibition is provided by Mondriaan Fund.
Special thanks to Lorena Espitia, Margarethe Drexel, and the Armory Center for the Arts.
Photo Credit: Kelly Barrie. Copyright 2015. The Mistake Room Inc.